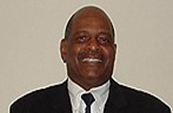 Arnold Young
President / Chief Executive Officer / Owner
Arnold Young is the Owner / President and Chief Executive Officer of DRM International, Inc. (DRM), one of the United States leading engineering consulting / construction management firms. DRM delivers professional services across the project lifecycle – from planning, design and engineering to consulting and construction management.
Mr. Young, is a strategic hands-on leader, team builder and problem-solver. Mr. Young's skills and innovative thinking are at the forefront and of significant value to clients as they continue to upgrade existing infrastructure and build new capacity for the future.
Mr. Young has crafted and developed the firm into an industry leader since he started the fledging company in 2000 and has been instrumental in the remarkable evolution of DRM.  His outstanding focus included strategic planning, quality control, risk management, recruitment and market diversification.
One of the keys to the success of DRM over the years has been its brilliant focus on the development of quality staff and personnel in all facets of the firm. He has turned that focus into animpressive strength. The competency and expertise of the DRM staff is exemplary and the driving force behind the firm's success. DRM maintains a superb staff of architects, engineers, designers, plannersand construction professionals who serve clients virtually anywhere in the world. The DRM market share has grown exponentially since 2010.
Mr. Young's background offers a wealth of experience in commercial facilities, transportation mobility including rail and transit systemsand Solar PV Systems.
Prior to starting DRM, Mr. Young served as Senior Vice President of Promatech Inc., an engineering firm in New York, a position he held for five years. 
Mr. Young is an active member of the Philadelphia and Washington, DC business and civic communities and currently serves on the Board of Directors for the Del Val  Foundation which is a charity organization which provides college scholarships to disadvantaged and underprivileged but academically gifted high school students. Mr. Young is a devoted advocate of higher education and providing the younger generation with the necessities and the opportunities to be a successful, dynamic and productive leader in the world's future.
Arnold holds a Bachelor of Business Administration from Howard University, Washington, DC.His extensive professional and civic affiliations include membership with the American Public Transportation Association (APTA), the Construction Management Association of America and Pennsylvania for Transportation Solutions. Mr. Young was a member of the Business Roundtable Board of Directors and its Infrastructure Committee. The Committee is leading the organization's efforts to advocate for the modernization of U.S. infrastructure assets.