Philadelphia International Airport  Terminal F Expansion Project
Terminal F expanded to enhance the amenities and services offered to passengers utilizing the facility.  DRM International, Inc. performed construction management services including but not limited to pre-construction services, value engineering, bidding and procurement support, field oversight and coordination, schedule/phasing oversight, quality control/quality assurance, safety monitoring, and building commissioning.
Provided project management for various airport terminal projects, including renovations to baggage claim facility, expanding the security checkpoint, expanding the concourse, and developing additional space for concessions, gate renovation, ticket counter renovation and food court.
Documented all aspects of the construction process including preparing contracts, reviewing schedules and defining scopes of work with appropriate US Airways personnel
Performed inspections throughout construction to ensure compliance with contract work
Phase 2 includes the construction of a new baggage claim facility including two claim devices, a new elevated bridge spanning the departures roadway to house the in-bound bag belts, restrooms, baggage claim offices, and associated mechanical and electrical rooms. Also included is a modified roadway to allow for taxi and commercial vehicle pick up at the facility. This phase will also encompass substantial remodeling of the existing ticketing building to include new vertical circulation, new restrooms, a new Transportation Security Administration (TSA) security checkpoint expanded from the existing two lanes to four lanes, and associated building mechanical and electrical upgrades.
Services
Program management
Construction administration
Features
Building size: Terminal F addition, 100,000 square feet; new baggage claim building: 22,000 square feet
Building function and services: Baggage claim building, ticketing and Secure E/F connector renovations
Specialized areas: Secure connector and new TSA security checkpoint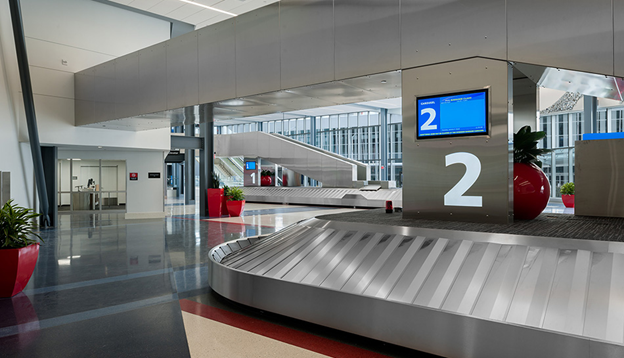 Client: US Airways/American Airlines
Completion Date: Phase 1: June 2013; Phase 2: June 2016
Location: Philadelphia International Airport